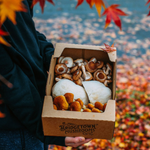 As Thanksgiving approaches, it's time to elevate your holiday feast with the earthy and savory goodness of mushrooms. Mushrooms can be a game-changer, adding depth, umami, and a unique texture to your dishes and drinks. Below are two recipes that will undoubtedly steal the spotlight on your Thanksgiving table: a rich mushroom gravy that will complement your turkey or vegetarian main dish, and a hearty mushroom stuffing that brings an earthy twist to this cherished holiday side dish. 
Oyster mushrooms are suggested, but practically any mushroom will do well in these recipes!
Mushroom Gravy Recipe
2 tablespoons extra-virgin olive oil

1 shallot, finely chopped

1 pound oyster mushrooms, chopped

2 garlic cloves, minced

1½ tablespoons fresh thyme leaves

½ tablespoon rosemary, chopped

3 tablespoons flour

3 cups vegetable broth

½ cup red wine (optional)

Salt and pepper 
Step 1: Heat the oil in a pot or large skillet over medium heat. Add mushrooms and stir occasionally until mushrooms are tender and most of their juices have evaporated, 10 to 15 minutes. 
Step 2: Add flour and stir constantly for 3 minutes.
Step 3: Stir in the red wine (or additional stock) and allow to simmer briefly, then add the stock and stir. Add salt, pepper, thyme and rosemary. 
Step 4: Bring to a simmer and cook for 25 minutes or until thick, stirring occasionally. Taste and adjust seasoning if needed. 
Mushroom Stuffing Recipe
1 stick butter, more as needed for greasing pan

1½ pounds evenly cubed sourdough bread and/or cornbread (we do a combo of both)

2 large leeks, trimmed and sliced

1½ pounds oyster mushrooms, cut into bite-size pieces

5 cloves garlic, minced

3 stalks celery, chopped

2 tablespoons fresh sage, chopped

2 tablespoons fresh parsley, chopped

2 teaspoons thyme, chopped

2 teaspoons rosemary, chopped

1 cup chestnuts, roasted and peeled

½ cup dry white wine (optional, replace with

½ 

cup stock if not using)

1½

cups vegetable stock, more as needed

1½ teaspoons kosher salt

1 teaspoon black pepper
Step 1: Heat oven to 250 degrees. Butter a 9-by-13-inch baking pan. Trim the crusts from the sourdough bread and cut into 1-inch cubes; if using corn bread, cut into cubes. Spread the bread pieces out on one or two large baking sheets. Toast in the oven, tossing occasionally, until very dry, about 30 minutes for sourdough bread, 1 hour for cornbread. Transfer to a large bowl to cool. Increase oven temperature to 375 degrees.
Step 2: In a large skillet over medium-high heat, melt butter, add the leeks and celery and cook, stirring occasionally, until soft, 5 to 10 minutes. Add the mushrooms, 1 teaspoon salt and ½ teaspoon black pepper. Cook, stirring frequently, until mushrooms are tender and most of their juices have evaporated, 10 to 15 minutes. Add garlic, parsley, sage, rosemary, thyme, and chestnuts and cook 1 minute. Add the wine and cook until it evaporates, about 2 minutes.
Step 3: Spoon the mushroom mixture over the dried bread. Stir in stock. Add ½ teaspoon salt and ½ teaspoon pepper. The mixture should be moist and very soft, but not soggy. 
Step 4: Transfer the bread mixture to the prepared baking pan. The stuffing can be baked now or put in the fridge to bake the next day. Bake for 30 minutes covered with foil, then remove foil and bake about 10 more minutes until golden.