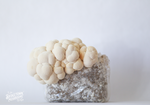 Lion's mane mushrooms are highly beneficial mushrooms that have been studied for decades. Because of the numerous benefits indicated in peer-reviewed research, lion's mane is one of our favorite mushrooms to cultivate and consume. And it's why we created Bill Walton's Wonder Bar with 3,000 mg of lion's mane mushroom powder. 
---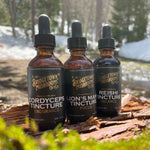 In the realm of natural remedies, functional mushrooms have emerged as potent allies for those seeking to enhance their well-being. One of the simplest ways to take advantage of these mushrooms is by using tinctures. A tincture is a concentrated liquid extract derived from medicinal substances – in this case, mushrooms. Among these remarkable tinctures, Lion's Mane, Reishi, and Cordyceps mushrooms have garnered significant attention for their impressive benefits. From boosting cognitive function to fortifying the immune system and increasing stamina, these mushrooms offer a range of advantages worth exploring. In this article, we will delve into the remarkable world...
---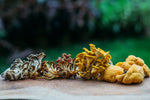 Grind dried mushrooms up into a fine mushroom powder or rehydrate!  Dried mushrooms are a versatile, shelf-stable ingredient that can add unique flavors and textures to your favorite dishes. The process of rehydrating them or creating a fine mushroom powder may seem intimidating, but it's really quite simple. Read on for the basics of rehydrating dried mushrooms, grinding dried mushrooms into a fine powder, and some tips and tricks to make the process easy. Get ready to elevate your cooking game with these little powerhouses of flavor! Make Your Own Mushroom Powder: Grind the Dried Mushrooms. You can use a coffee...
Recent Articles
Categories