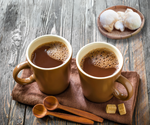 This rich hot cocoa is the perfect warm treat for a cold day. With just two ingredients—one of our Wonder Bars and 2 cups of milk—you can have a delicious hot cocoa, elevated with the benefits of lion's mane mushrooms. Feel free to personalize your brew by adding your favorite spices, additional sweeteners, or whipped cream to taste.
Total Time: 10 minutes
Servings: 2
Ingredients: 
Optional ingredients: 1/2 tsp vanilla, a dash of cinnamon, extra sweetener of your choice, whipped cream -- make it your own! 
Step 1: Finely chop or grate 1 whole Wonder Bar. 
Step 2: Fill a small pot with 2 cups of milk and heat on medium until just starting to simmer. 
Step 3: Whisk in the chocolate until fully dissolved. Turn off heat and add any optional ingredients to taste. 
Step 4: Serve in two small mugs with your choice of toppings.