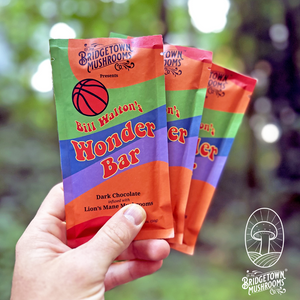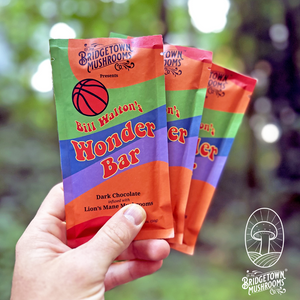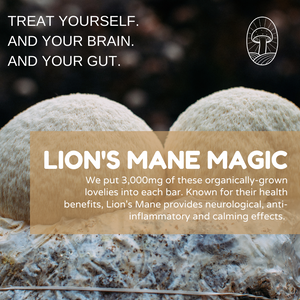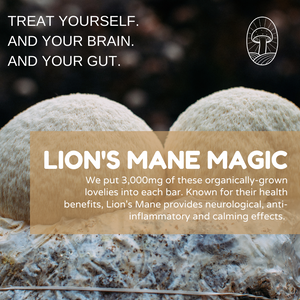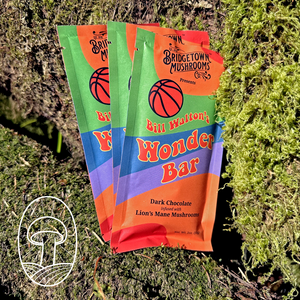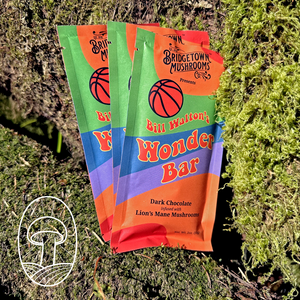 On Sale
Bill Walton's Wonder Bar!
Shipping Note
It's time to embrace the heatwave, folks, with Bill Walton's Wonder Bar! This delectable treat comes with a warning - this summer's a scorcher for the record books - so we've limited our shipping options to keep your chocolate deliciousness arriving safe and sound! Enjoy!
🌈🌈🌈 

Treat yourself to Bill Walton's Wonder Bar! 🌈🌈🌈

Made in partnership with the basketball legend himself, our dark chocolate bar is infused with organic lion's mane mushrooms grown on-site, and the combination will bring you out of the doldrums and add some sparkle ✨✨✨ to your life!

Get ready to dunk on all your cravings! 

 
🍄 The Mushrooms 

🍄
Based out of Portland, Oregon, we grow our mushrooms on-site, organically and with a commitment to quality of taste and sustainability. 

These are NOT psychedelics! 🙅‍♂️ No 🔮 here – just 🤩 true-blue nutrition 🥳!
Lion's Mane mushrooms are respected around the world for their healthy impact on blood pressure, low energy levels, various organs' health and, most importantly when paired which chocolate, depression. We infused this bar with 3,000mg of the stuff.
🍫 

The Chocolate 

🍫



Ethically-sourced from Ecuador, our cacao and the dark chocolate made with it is rich, silky and absolutely delicious. We took our time finding the best chocolate for pairing with our home-grown mushrooms, and we are immensely satisfied with where we landed.
Chocolate, especially of the darker variety, can boost your mood and reduce blood pressure, among other health benefits.
You are still eating a chocolate bar, but it's a chocolate bar that's doing its best to heal your heart - in more ways than one!

🌈 

🏀 

The Man 

🏀 🌈
Let the award-winning basketball player, announcer and Deadhead use his own words:
"I truly am The Luckiest Guy in the World. I love mushrooms. They're a foundational element in the circle and cycle of life.
I get to help create these WONDERful mushroom-enhanced confections. Then, I get to share them with all of you.
What could be better?
Here we go!"
Additional Product Information

Net Weight: 2 oz (56 grams)
Lion's Mane content: 3,000mg
This limited-edition release marks Bridgetown Mushrooms' formal entrance into mushroom-infused consumables. Bill Walton's Wonder Bar contains the Company's locally and organically grown lion's mane mushroom powder and ethically and sustainably sourced Ecuadorian cacao. The product is packaged in 100% compostable pouches in keeping with the sustainability priorities of both Walton and the Company.